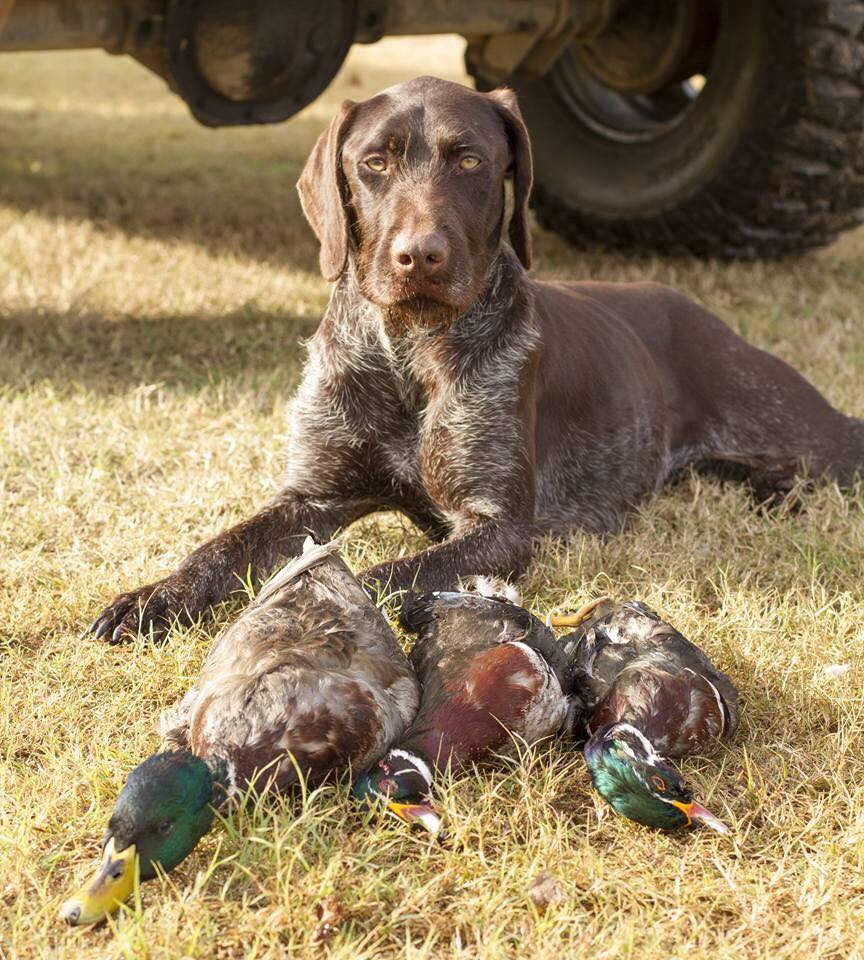 The Best Hunting Dogs Start with The Best Training
As the owner of Briarwoods GunDogs, I have many years of experience in training a wide array of hunting dog breeds from retrievers to hounds and everything in between. I have been a member of multiple performance-based breed clubs for decades, and I have also traveled to Europe several times to compete. With all this experience I feel I can safely say I can train about anything willing to learn.
Currently, we breed the German Wirehair, German Shorthair, and German Hunting Terrier, or Jagdterrier, all of which are versatile European hunting breeds. This gives us a wide range of knowledge because of the many tasks that these dogs can and are supposed to do, ranging from retrieving raccoons and foxes to pointing and flushing upland birds to blood tracking wounded game and more.
I have to use a variety of tools and techniques to achieve all of our training goals. With this experience and experience with other breeds, we feel we are more than capable of handling your single task dogs like retrieving breeds and pointers. I've trained them as well.
For myself, typically speaking, I prefer to get in pups around four to seven months old to help build their foundation that their training will be built upon. Many times, if a dog stays at home too long, it will develop bad habits that leads to the need for more time here correcting and altering those behaviors. We believe in lots of exposure to build on natural traits from pointing to retrieving, so pups will be exposed early on to game of all kinds and various terrain types.
I am currently a member of NAVHDA and continue to train and test within this organization, as well as training and testing client dogs in the European clubs as well. I have trained for all associated tasks from blind retrieves, duck searches, blood tracking, steady to shot and so forth. I don't use fancy wording and lingos to draw in business, for example: "puppy head start" or "basic gundog program."
I teach everything necessary and asked for during the training period. I also will not continue to hold a dog or pup that just doesn't have "it." We would like most of our clients to plan to stay for three months to see if their pup has the potential to be a solid hunting dog, and if we know prior that the pup will not make it, then I will be in contact.
Our current rate is 1000$ per month which includes dog food and necessary training game (quail, pheasants, ducks, rabbits). 
Dog Training Services Available
Versatile dog training and test prep
Retrieving for hunting or testing
Introduction to live game and gunfire